Fannin County Schools Registration and Open House 2022-2023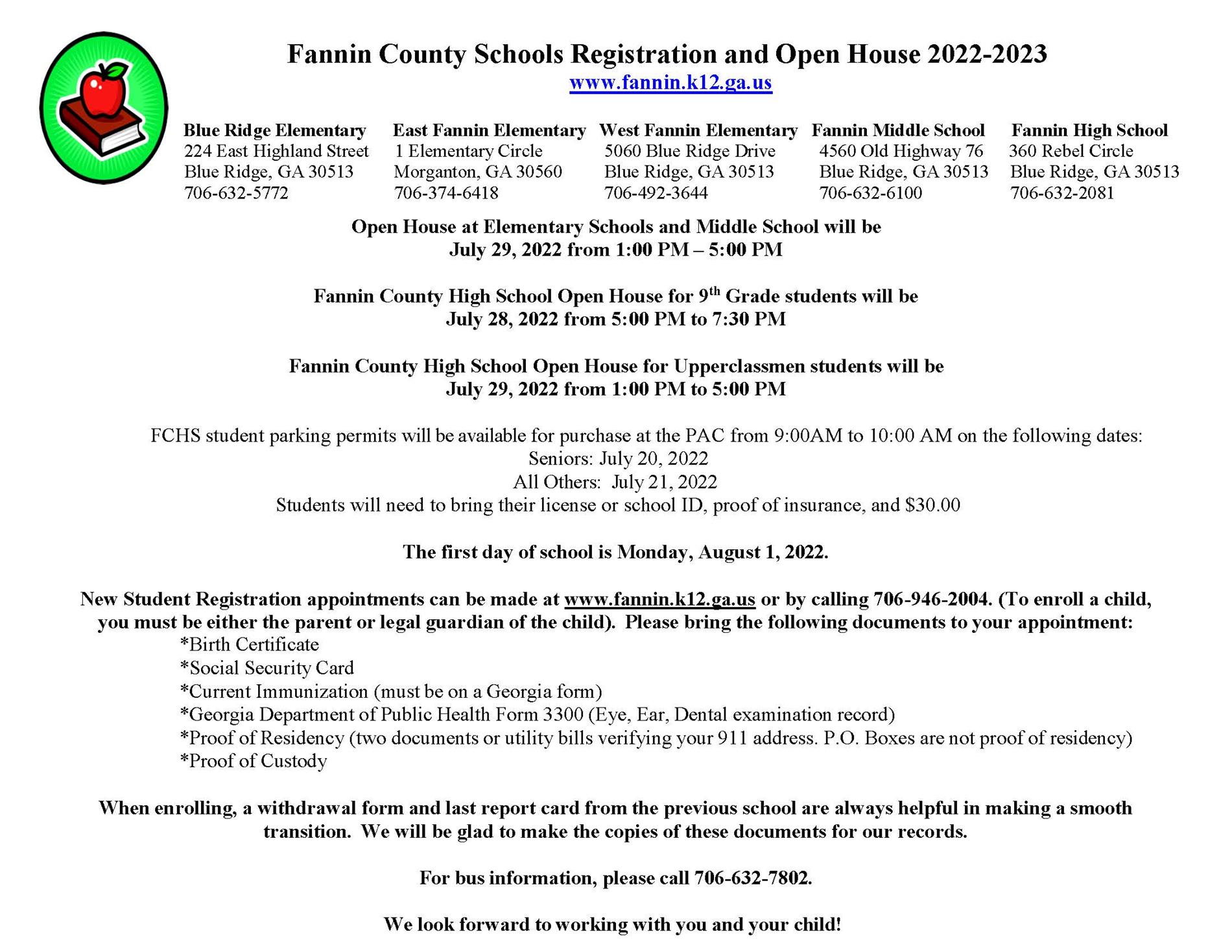 ---
Fannin County Schools Registration and Open House 2022-2023
Open House at Elementary Schools and Middle School will be

July 29, 2022 from 1:00 PM – 5:00 PM
Fannin County High School Open House for 9

th Grade students will be

July 28, 2022 from 5:00 PM to 7:30 PM

Fannin County High School Open House for Upperclassmen students will be

July 29, 2022 from 1:00 PM to 5:00 PM

FCHS student parking permits will be available for purchase at the PAC from 9:00AM to 10:00 AM on the following dates:

Seniors: July 20, 2022
All Others: July 21, 2022

Students will need to bring their license or school ID, proof of insurance, and $30.00

The first day of school is Monday, August 1, 2022.

New Student Registration appointments can be made at www.fannin.k12.ga.us or by calling 706-946-2004. (To enroll a child,
you must be either the parent or legal guardian of the child). Please bring the following documents to your appointment:

*Birth Certificate
*Social Security Card
*Current Immunization (must be on a Georgia form)
*Georgia Department of Public Health Form 3300 (Eye, Ear, Dental examination record)
*Proof of Residency (two documents or utility bills verifying your 911 address. P.O. Boxes are not proof of residency)
*Proof of Custody

When enrolling, a withdrawal form and last report card from the previous school are always helpful in making a smooth

transition. We will be glad to make the copies of these documents for our records.

For bus information, please call 706-632-7802.
We look forward to working with you and your child!